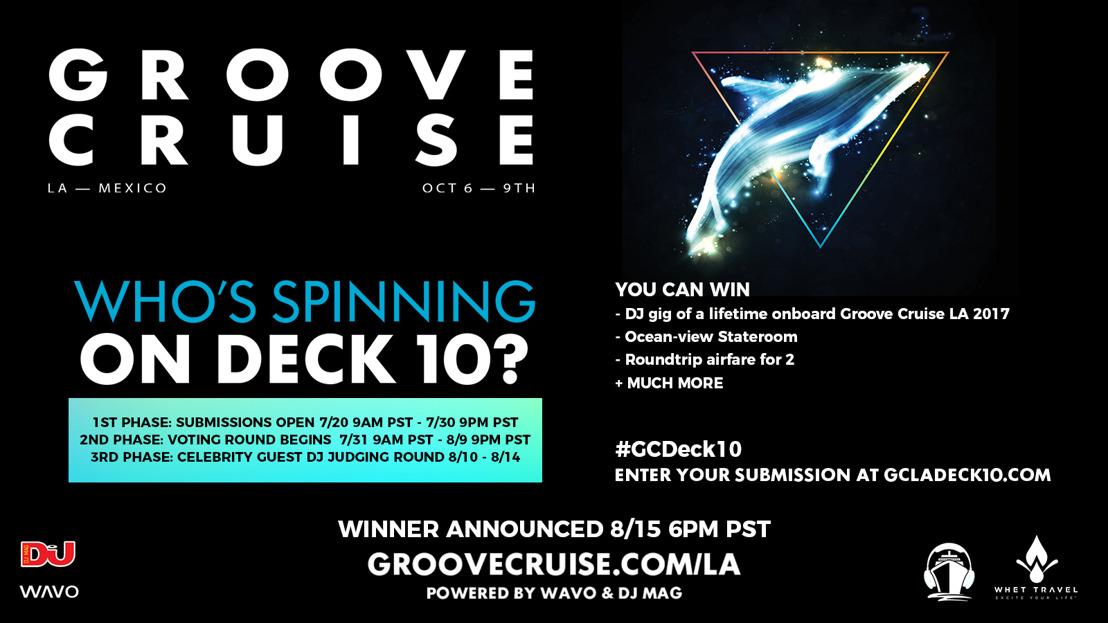 Groove Cruise and WAVO Offer You The Chance To Win The Gig Of A Lifetime
Submit a Mix by July 30 To DJ Onboard Groove Cruise Los Angeles 2017 Alongside Some of the Top Electronic Artists on the Planet
Friday, July 21, 2017 —
Groove Cruise LA to Sail to Ensenada Mexico October 6-9 Featuring 3lau, Ferry Corsten, Green Velvet, Andrew Bayer, CJ Jeff, Autograf, Thomas Jack, Anjunabeats, Space Yacht, This Ain't Bristol, Desert Hearts' Lee Reynolds, Marbs, and RYBO, Bonnie X Clyde, Jody Wisternoff, GRUM, Jason Ross, Tim Baresko, Supernova, Liquid Todd, Secondcity, Billy Kenny, Maximono, Doc Martin, Bot, Cocodrills, Adam Auburn, Dateless, and Many More
Groove Cruise announced in partnership with WAVO they will be offering one aspiring DJ the chance to play the iconic nautical event alongside some of electronic's biggest stars. The Groove Cruise LA DJ Contest will call upon underexposed artists from around the world to send in their freshest mix for a chance to win roundtrip airfare, ocean-view stateroom, two tickets to Groove Cruise LA, and the opportunity to play a dream gig on the World's Largest Floating Dance Music Festival.
With one of Groove Cruise's best lineups yet, the winner will spin amid the Pacific beside a slew of world-class talent including 3lau, Ferry Corsten, Andrew Bayer, CJ Jeff, Autograf, Thomas Jack, Jody Wisternoff, Bonnie x Clyde, GRUM, Jason Ross, Tim Baresko, Supernova, Secondcity, Billy Kenny, Anthony Attalla, Cocodrills, and Adam Auburn along with deepend captains like Green Velvet, Bot, Maximono, Doc Martin, and Desert Hearts' own Lee Reynolds, Marbs, and RYBO.
Our lucky winner will celebrate their dream prize with the GCFam with cliff top estate parties, sun-soaked daytime pool sessions and late-night open-air after-hours. As well as enjoying Groove Cruise's onboard waterpark, mini-golf, casino, multiple dining experiences, spas, and even getting Zen at Deep House Yoga on the top deck with 360 ocean views.
As if these boatful of prizes weren't enough, the winning mix will also be used as the featured on an upcoming episode of Groove Cruise Radio Podcast. With over 100,000 subscribers on iTunes, Groove Cruise Radio Podcast has been listed as 'New & Noteworthy' as well as entered in the Top 100 Music Podcasts on iTunes.
Submissions start today and go through July, 30th so make sure to hurry, get in-tuned with your inner DJ, and prep those basslines cause you will not want to miss out on this once-in-a-lifetime experience as our surprise celebrity guest judges could potentially choose your mix to become the winner of Groove Cruise's DJ Invitational.
More Info + Submission Link to Groove Cruise LA's 2017 DJ Invitational:
About Groove Cruise
What started in 2004, as a group of 125 thrill-seeking house heads sailing on a cruise together, has erupted into the World's Largest Floating Dance Music Festival. The Groove Cruise is the only music cruise to sail from both East and West coasts, and is a 72-96 hour, non-stop experience, comprised of 4 straight days of beach and pool parties, as well as themed extravaganzas and onboard events that rival the best dance music festivals in the world. The Groove Cruise is produced by Whet Travel.
Whet Travel
Over 12,000 people each year choose Whet Travel for their music cruise adventure. Whet Travel oversees six unique themed cruises including Groove Cruise Miami and LA, Salsa Cruise, The Zen Cruise,Inception At Sea. Whet Travel received the prestigious Charter Partner of the year award from Carnival and Norwegian Cruise Lines and Inc Magazine ranked Whet Travel as the #4 fastest growing travel company in the USA.