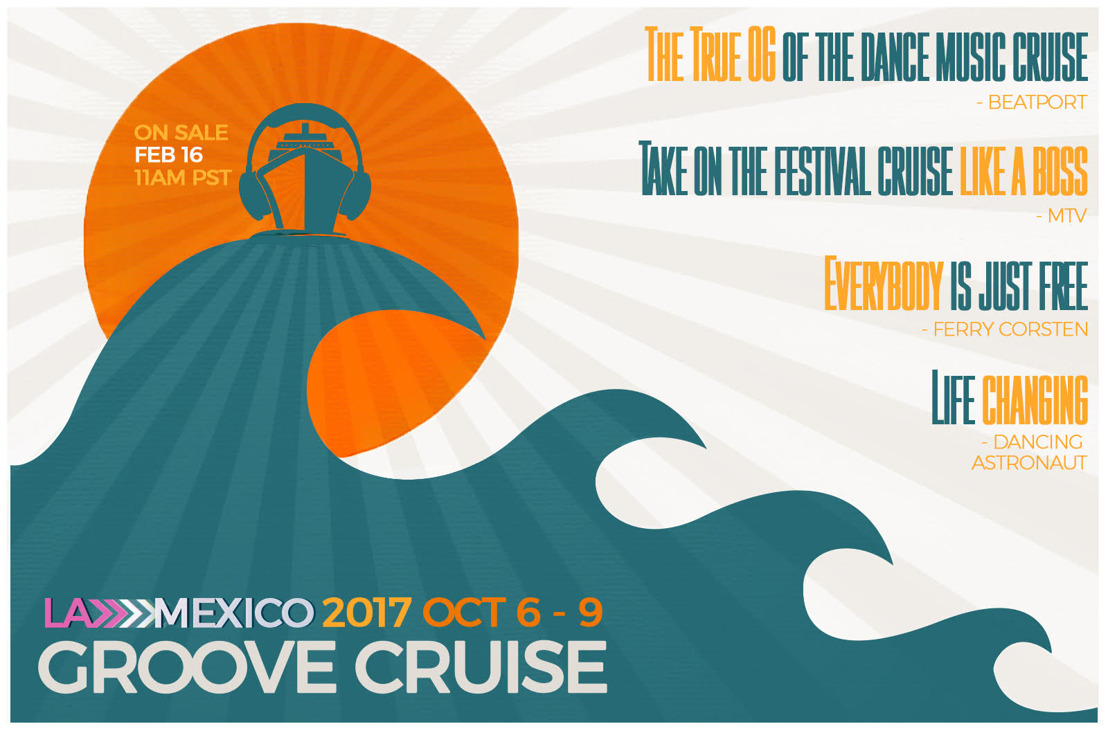 Groove Cruise Returns to LA this Fall, Charts Course to Ensenada Mexico October 6-9 weekend, 2017
Announces takeover of the iconic Queen Mary on Thursday Oct 5 for an exclusive Bon Voyage Party as Part of the Dark Harbor Haunted Festivities, rounding off a 4 day West Coast experience.
Monday, February 13, 2017 —
Groove Cruise, having just returned from its most attended and talked about voyage yet, today has announced the dates for its West Coast edition setting sail from LA for Mexico October 6-9.
In addition to the 3 day sailing, for the first time ever, the prelude to the weekend will see Groove Cruise take over the iconic Queen Mary to create an experience unlike anything in its 13 year history. The Bon Voyage party on the decks of the Queen Mary will take place in conjunction with the haunted Dark Harbor that the port of Long Beach has become famous for. GCFam can take part in 10 terrifying experiences at what Time Magazine says is 'One of the Top 10 most Haunted Places on Earth'. Groove Cruise Founder and CEO of Whet Travel Jason Beukema stated 'Everyone is fascinated by the Queen Mary and its history. It's going to be a once in a lifetime experience to have the GCFam stay on the ship, party onboard and take part in all the Dark Harbor freaky festivities the night before we set sail to Mexico. And it's conveniently across the parking lot from the cruise terminal we sail from the next day'.
Groove Cruise has once again charted its course for the fun-filled shores of Ensenada Mexico, offering attendees a mix of authentic food, adventure, and rich cultural escapes. New for 2017 will be a private cliff top experience at the stunning Casa de los Siete Patios showcasing the region's specialties and beauty. Once on land, GCFam may find themselves taking tours of local wineries, flying on a zip line, getting misted by the natural seaside spectacle of the 'Blow Hole', or exploring local market places before heading to the exclusive Groove Cruise cliff party on the edge of the ocean.
Groove Cruise West Coast departs on the recently refurbished 855 ft long, 14 deck Carnival Inspiration cruise ship - which features an onboard water-park with the iconic Disco Slide, mini-golf, casino, multiple dining experiences like Guy Fieri's Burger Joint, Blue Iguana, high end steakhouse options, a spa, piano bar, multiple pools, and a dedicated staff to provide guests with the experience of a lifetime.
From the techno infused 'Abyss after hours' sunrises in the middle of the Pacific, to hard hitting trance and big room acts, to moments of Zen in the Whet Oasis chill lounge, to old school hip hop and dance classics sessions, to Deep House Yoga on the top deck with 360 ocean views, to activities with artists for a fan experience unlike anywhere else, Groove Cruise offers moments of bliss for everyone with a sense of adventure and passion for excitement.
Pre-sale for this voyage are sold out. Staterooms open for public bookings on Feb 16th at 11am PST, float on over and see why Beatport labelled this experience "the True OG of the dance music cruise", and ''life changing'' by Dancing Astronaut.
About Groove Cruise
What started in 2004, as a group of 125 thrill-seeking house heads sailing on a cruise together, has now erupted into the World's Largest Floating Dance Music Festival. The Groove Cruise is the only music cruise to sail from both East and West coasts, and is a 96 hour, non-stop experience, comprised of 4 straight days of beach & pool parties, as well as themed extravaganzas and onboard events that rival the best dance music festivals in the world. The Groove Cruise is produced by Whet Travel,
Whet Travel
Over 15,000 people each year choose Whet Travel for their music cruise adventure. Whet Travel oversees six unique themed cruises including Groove Cruise Miami and LA, Ship Rocked, Motorhead's Motorboat, The Zen Cruise, and Inception At Sea. Inc Magazine ranked Whet Travel as the #4 fastest growing travel company in the country.
More Info on Groove Cruise Here:
https://www.groovecruise.com/
Groove Cruise Miami 2017 Photos Here:
Credit: @veranmiky