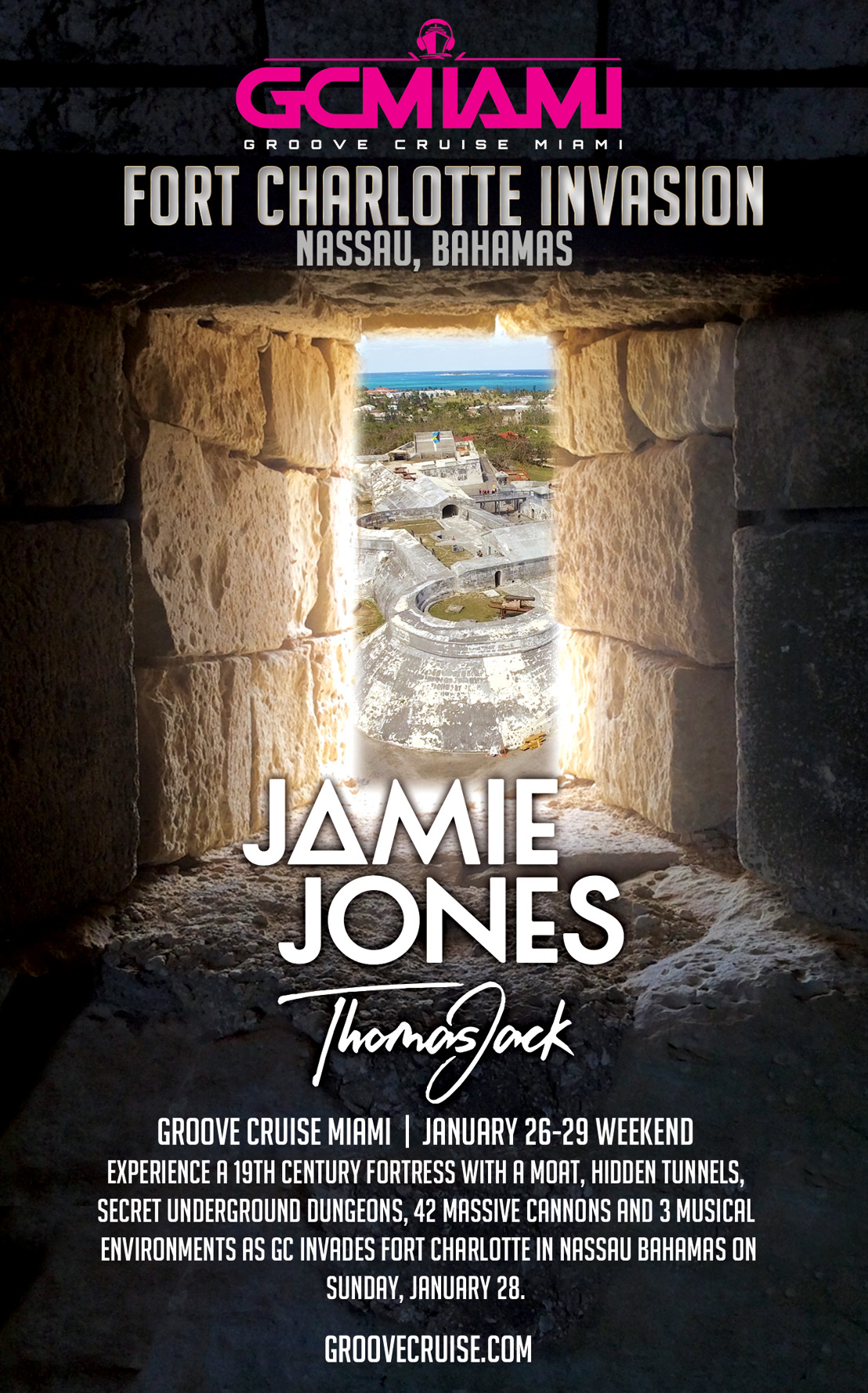 Jamie Jones and Thomas Jack to headline 19th Century Fort Charlotte Invasion in Nassau Bahamas during Groove Cruise Miami 2018
GC MIA departs January 26th-29th weekend on Royal Caribbean's Enchantment of the Seas to CocoCay private island and Nassau Bahamas
Thursday, October 19, 2017 —
Groove Cruise Miami 2018 is officially SOLD OUT
With Groove Cruise Miami 2018 officially sold out and fresh off another sold-out West Coast cruise, which LA Weekly dubbed 'debaucherous splendor' and SiriusXM called 'spectacular', GC today has announced a first of its kind takeover of The Bahama's largest fort, Fort Charlotte, with Jamie Jones and Thomas Jack soundtracking this iconic party experience.
Groove Cruise will make landfall at the largest city and capital of the Bahamas, Nassau. Formerly known as Charles Town, this historical city was named after William III of England, Prince of Orange Nassau, as it used to be a stronghold for pirates. Attendees will be welcomed to groove to underground music's reigning champ Jamie Jones and Caribbean house captain Thomas Jack while taking in the history of Fort Charlotte. Just a short jaunt from the cruise port, attendees will have the opportunity to explore the Fort's hidden tunnels, secret dungeons, and 42 massive cannons either at their own pace or through a guided tour to revel in the structure's history. On top of that, there will be a 19th century military reenactment and cannon firing demonstration by the Bahamas Defense Force - truly bringing Bahamian history to life.
Groove Cruise's other stop is on CocoCay's crystal blue shore for an immersive private island beach party experience with a main and underground stage. With 140 acres of private island, CocoCay becomes a tropical playground, where the adventurous Cruisers can find themselves snorkeling the breathtaking coral reefs, scuba diving with underwater wildlife, racing WaveRunners, or hiking lush nature trails. Attendees can also just chill and indulge into the local cuisine, bars, and shops on shore — making CocoCay truly a gorgeous destination hotspot. Here you will also a find a 200,000 square foot adventure water park situated just offshore, where the GCFam can test their aquatic skills on floating rock climbing walls, two 25 foot aquatic trampolines and two 14-foot castles - 1 for climbing and the other for sliding.
Jamie Jones and Thomas Jack are among 50 artists that will be making fans dance on the Groove Cruise's all-star lineup, with world-class DJs like Dada Life, Gryffin (DJ Set), Ilan Bluestone, Mark Knight, Markus Schulz, R3hab, and SNBRN, along with some of underground's finest like Shiba San, Kill Frenzy, Anthony Attalla, Cocodrills, and Detlef. Completing this unique musical journey are hosted stages by Anjunabeats, Coldharbour Recordings, Space, Secret Garden, Basement Leak, Incorrect, Deck of Denial and Revolution Radio.
Groove Cruise's new residence, Royal Caribbean's Enchantment of the Seas, will bring luxury to the oceanic experience with the first ever GC all inclusive drink packages, fine dining experiences, bottle service, plus activities like on-board bungee trampolines, rock climbing, and a casino. You don't want to miss out on the extravagance, thrill, and culture Groove Cruise continues to provide year after year reimagined for its finest journey yet. Stay tuned as Groove Cruise announces more guest experiences, such as, artist hosted beach games, blackjack and mini golf tournaments, even an artist cooking demonstration that make this voyage it's own unique realm in the music festival world.
More info on Groove Cruise:
About Groove Cruise
What started in 2004, as a group of 125 thrill-seeking house heads sailing on a cruise together, has erupted into the World's Largest Floating Dance Music Festival. The Groove Cruise is the only music cruise to sail from both East and West coasts, and is a 72-96 hour, non-stop experience, comprised of 4 straight days of beach and pool parties, as well as themed extravaganzas and onboard events that rival the best dance music festivals in the world. The Groove Cruise is produced by Whet Travel.
Whet Travel
Over 12,000 people each year choose Whet Travel for their music cruise adventure. Whet Travel oversees several unique themed cruises including Groove Cruise Miami and LA and Salsa Cruise. Whet Travel received the prestigious Charter Partner of the year award from Carnival and Norwegian Cruise Lines and Inc Magazine ranked Whet Travel as the #4 fastest growing travel company in the USA.
Press Quotes
Huffington Post : "Combining the luxury and travel of a cruise ship with the pulsating, all-night party of an electronic music festival, it is no wonder that this event sold out so quickly."
Travel Channel : "The Groove Cruise is The #1 Place in The World to Get Your Groove"
Sirius XM: "Groove Cruise is a spectacular event"
LA Weekly : "only after attending can one understand the logistical marvel that is Groove Cruise."
YourEDM : "no VIP area or backstage or green room, and it was obvious how it made people feel: free."
Complete Phase 1 Lineup (Alphabetical)
Adam Scott
Adina Butar
A-L-X
Anjunabeats
Anthony Attalla
Baggi
Basement Leak
Bonnie X Clyde
Bryan Lubliner
CamelPhat
Carabetta & Doons
Coldharbour
Dada Life
Dancetronauts
Dave Neven
Dean Mason
Deck of Denial
Detlef
Doc Brown
Dose
DSK CHK
Frank Walker
FYR Crew
Grube & Hovsepian
Gryffin (DJ Set)
Ilan Bluestone
Incorrect
Jamie Jones
Jason Ross
Jesse Perez
Kill Frenzy
Kristina Sky
Liquid Todd
Luccio
Mark Knight
Markus Schulz
Max Chapman
Nifra
Ohashi
Prizmatik
R3HAB
Revolution Radio
Richy
Scooter & Lavelle
Scotty Boy
Secret Garden
Shiba San
Space Miami
Spencer Brown
SNBRN
Thomas Jack
Thunderpony